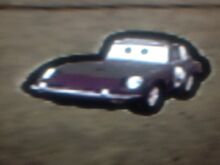 I'm your unaverage half-handy half-obnoxious user who for a while has been here on this wiki. I'm also one of the developers of Cars: Hi-Octane Edition, although I haven't really done much other than make paint jobs and extract some textures from the Wii version of the game. Behind the self I act as on this wiki, I also am a member of a fangame development team, who are currently planning to make a Cars game. I also have other main interests besides Cars such as Pokémon, Plants Vs. Zombies, Captain Underpants, and Mario, although i'm not really allowed to talk about them outside of my userpage. Other things I like to do besides modding and playing the games include drawing (which I use to illustrate things I can't normally show or make), railfanning, and listening to music. If you're curious of anything else, feel free to ask me whatever you want on my Message Wall. I also have a YouTube channel, also called "Superbaddy4" where I upload clips of my mods, along with Memes and whatever else I want.
Personal Mods
Here's a list of all the mods i've personally put in to my Cars: Hi-Octane Edition v1.9 cartridge.
Changed every .aty to what I wanted.
Reordered the Character Selection Screen.
Changed the Lightning quote on the sound options to one of Gerald's quotes.
Added my favorite songs, U2 - Beautiful Day and Green Day - Boulevard of Broken Dreams.
Added voice to the Piston Cup Racer, which is yet to be added to the official mod.
Changed music.pb so every song would play in every event type.
Changed eventinfo.dat so my favorite cars would only appear as opponents in story mode races.
Personal Gallery
Some pictures I took that I think are the most valuable, either to me or because of what they are of.
Community content is available under
CC-BY-SA
unless otherwise noted.